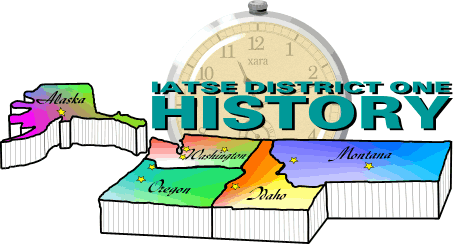 ---
1926 - 1930
---
TABLE OF CONTENTS




---
14th District Convention 1926
After an absence of six years District One returned to Cleveland to hold its 14th Convention. Thirty delegates assembled at the Winton Hotel on June 17, 1926. Alberta and Saskatchewan locals were not in attendance as they had gone over to a newly organized district of their own. International Representative Crickmore called the Convention to order.
---
15th District Convention 1928
Held in Detroit, Michigan
Delegates from thirty District No. One locals convened at the Tuller Hotel, Detroit, Michigan on Thursday, May 31, 1928. The 15th Convention was called to order by International Representative Charles Crickmore with the following Delegates present:

OREGON

Local 28 - Portland, OR - H.H. Moyer - J.F. Morgan
Local 159 - Portland, OR - J.S. Haughey - Boyd Lawrence
Local 446 - Astoria, OR - E.T. Edison
Local 613 - Salem, OR - G.L. Snook

WASHINGTON

Local 15 - Seattle, WA - E.A. Clark - J.R. Burns
Local 159 - Portland, OR - J.S. Haughey - Boyd Lawrence
Local 81 - Tacoma, WA - Carl Ellis
Local 93 - Spokane, WA - Chet Cook
Local 117 - Bellingham, WA - Albert Bostrom
Local 154 - Seattle, WA - Fred Jiencke - George Kalushe
Local 175 - Tacoma, WA - O.M. Jacobson
Local 180 - Everett, WA - Arthur Tosland
Local 185 - Spokane, WA - C.S. Alderman
Local 234 - Walla Walla, WA - C. Palmer
Local 254 - Yakima, WA - L.B. Hinds
Local 344 - Olympia, WA - Boyd Andreus
Local 351 - Anacortes, WA - Kenneth Sewell
Local 401 - Centralia, WA - Wayne Kirkpatrick
Local 429 - Aberdeen, WA - H.A. McDonald
Local 445 - Bremerton, WA - C.S. Halverson
Local 651 - Wenachee, WA - Howard Bloom

IDAHO

Local 91 - Boise, ID - Roy Marcroth
Local 463 - Pocatello, ID - William Peacock
Local 629 - Idaho Falls, ID - C.J. Slifer
Local 742 - Wallace-Kellogg, ID - No Delegate

MONTANA

Local 94 - Butte, MT - Sam Spiegel
Local 213 - Great Falls, MT - A.W. Mettler
Local 240 - Billings, MT - L.G. DeNayer
Local 255 - Helena, MT - No Delegate
Local 339 - Missoula, MT - J. Beaubien

BRITISH COLUMBIA

Local 118 - Vancouver, B.C. - Harry Pearson
Local 168 - Victoria, B.C. - L. Oliver
---
The following information from the June 1950 District Bulletin:

Three day convention were the order in those days and delegates received $10.00 per diem. Vancouver Local 348 had transferred to District 12 and was not represented. The local reaffiliated with District One in 1930. Vitaphone-Movietone was the principal topic discussed.

The Orpheum's request for reduction in crews was dealt with. Two Special Milwaukee cars transported the delegates east. Chet Alderman, delegate from Spokane Local 185, in submitting his report as member of the Advisory Board, said "...and there is another matter I wish to call to the attention of this convention and that is the failure of many locals to organize adjacent small towns. Reasons why we should do so are too obvious to detail..." Alderman's views were supported by other delegates and could be appropriately repeated by William May, 185's delegate to the 1950 convention. George Gerrard, Local 348, Vancouver, B.C. was a vistor. Stage employe delegates from Portland, Seattle, Tacoma, Spokane and Vancouver, B.C., reported conditions the best in history.

The talkies had not really begun to take their toll. Sam Spiegel, delegate from Butte 94, could easily claim the distinction of being the first to propose the organizinf of the Service Engineers. He was the author of a resolution calling upon the incoming International Executive Board to unionize this field. District No. One, always in the forefront, adopted the resolution. An assessment of $1.00 per member was voted to defray cost of the convention.
---
Home Page | District One History | General News
Education | Links | E-Mail John
---

Visitors Since September 13, 1998
---
A Legends Production