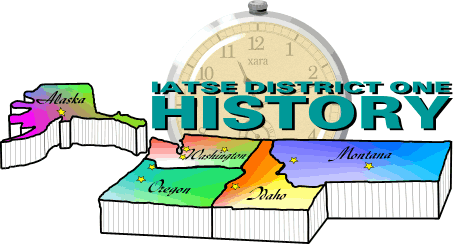 ---
1963 - 1964
---
TABLE OF CONTENTS








---
March 1963 Bulletin
---
CINERAMA OPENS IN SEATTLE
BY ED HIRD, Local 154: The Martin Theatres opened their theatre on January 24, 1963 with the delightful film "THE WONDERFUL WORLD of the BROTHERS GRIMM". The interior of the theatre is very striking, finished entirely in one color, flamingo. The floor is completely carpeted, including under the seats, which are 840 Heywood Wakefield rocking chairs. There are drapes all around the auditorium from the ceiling to the floor.
OLD FRIENDS MEET AFTER 17 YEARS
When Gypsy Rose Lee came to Portland to play in a local night spot, Brother Arthur Mamero, a member of Local 159 and Local 659, Cinematographers, was one of the first to greet her.

For in 1946, right here in Portland, in the Marine Room of the Multnomah Hotel Brother Mamero made a 15 minute color sound motion picture epic of Gypsy. The title "Gypsy Rose Lee and Her Undercover Girls". Gypsy was decked out in a black picture hat and an old fashioned black dress. She introduced each of her five scantily clad co-workers with a saucy rhyme and each cutie came back with a verbal clincher. Then Gypsy whipped our colorful yardage from her bustle, draping each girl in what turned out to be keen-looking sheath formals. The finale was Gypsy herself shedding a bit. The recent film version made by Warner of Gypsy Rose Lee's life played at the Broadway Theatre starting Christmas Day for nine weeks to record breaking houses.
---
June 1963 Bulletin
---
MUSIC BOX THEATRE FIRE
BY PARKER BUNDY, Local 175 -- On the evening of May 1st, 1963 fire destroyed the Music Box Theatre, originally known as The Tacoma Theatre and a downtown Tacoma landmark since 1890, causing damage that may amount to one million dollars or more. The Tacoma Theatre's entravagant opening January 13th, 1890 heralded 73 years of entertainment for the people of Tacoma. Situated in the center of downtown Tacoma, the theatre was considered the heart of the huge 9th and Broadway landmark. For 38 years the greatest of the entertainment world graced its hugh stage. Names as Henery Irving, David Warfield, Lily Langtry, Lillian Russell, Maude Adams, Otis Skinner, The Barrymores, Walker Whiteside, Harry Lauder, Kolb & Dill, Al Jolson and many, many more.
SEATTLE LOCAL 154 PAYS PORTLAND 159 A VISIT
At the Country Kitchen, seated left to right: L.R. Smith, President 159, Ken Dowling, Executive Board Member 154, Seattle, Herb Olson, their Business Agent, Fred Jienke, President, and International Vice President O.M. Jacobson. Standing, left to right: Russ Phelan, Business Agent B-20 Portland and also a member of 159; Max Cohen, Secretary 159; Ed Hird, Secretary 154; Sid Phillips, Business Agent, 159 and Justin Stoll member of the Board; James Morgan, Business Agent Local 28 and C.D. Barnhart, Sergeant of Arms Local 159.
LARGEST FLOAT EVER IN ROSE PARADE
"ROMAN FIESTA", easily the largest and most spectacular float ever to be entered in the Portland Rose Festival parade, took the Grand Sweepstakes in the event held June, 15th. The entry, consisting of six units, 151 participants and covering four Portland blocks, was created and designed by Monty Monteyne and Al Learman from the orignal ideas of the latter's father, Tommy Learman, 48 years ago. At that time, the elder Learman was active in float designs for the Pasadena Tournament of Roses in addition to the extensive floral arrangements used in road shows of that period. The 1963 prize-winner was sponsored by the Insurance Company of America (ICOA), Salem, Oregon based firm.

All lead men employed in the building of the foral monster were IATSE members of Local 28 and included forman Ed Lane, Truman Lane, Cal Davidson, Stan Copko and John DiSciullo. "Our thanks for the cooperation of the entire membership of IATSE", said Al Learman, "It would have been impossible without their help, this goes for Bill Goritsan, Don DuMas, Hollywood Lighting's Don Cameron and the membership of the painters and decorators Local B-20,"
---
September 1963 Bulletin
---
NEW EQUIPMENT AT THE PARAMOUNT
BY C.W. CHRISTENSON, Local 159: I guess the leading story for Portland is the Paramount Theatre with a face lifting, Todd AO equipment, new sound and lamps. As a matter of fact they just ripped the whole booth out and put in new equipment. Phillips 35-70 mm projection, Ampex Sound, new 35-70 Strong burning 125 amperes and what a picture on a 70 foot screen.
---
March 1964 Bulletin
---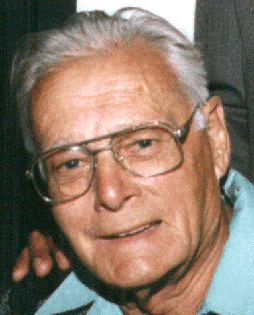 VETERAN STAGEHAND KEEPS COMING BACK
Drawing on stagecraft skills and the varied experience of a lifttime in the theatre, Floyd E. Hart, third generation Seattle stagehand, worked alone in the dark and empty Music Hall Theatre. It was a labor of love. Hart, only vaguely aware of the crowds and traffic outside, was putting the finishing touches on the stage sets he has designed and built for the opera, "The Barber of Seville," the Western Opera Company's production that will be presented Friday and Saturday nights in the Seattle Center Opera House.
Hart's immediate concern was the ever present theatrical deadline-a race to have the sets ready for tonight's dress rehearsal, with transfer trucks waiting to transport the scenery from the Music Hall to the Opera House. But Hart is an old pro who has worked most of the stage shows in Seattle for several decades. His father and grandfather also were scenic artists and stagehands.

"My father, the late Floyd Hart, Sr., was working at the old Lyric Theatre on September 2, 1914, the day I was born at Seventh Avenue and James Street," Hart recalled.

"My grandfather worked with traveling shows and as a 'carny' (carnival worker) throughout most of the midwest in the early days." "And," Hart added, "my son, Steve 13, is a pretty fair stagehand. He already is a crackerjack spotlight operator, but I think he wants to be a dentist."

Hart has been an eyewitness to the demise of vaudeville, the passing of most of Seattle's "legit" theaters (The Moore still has the best stage and acoustics in town, Hart insists) and the gradual disappearance of "presentation houses" like the Music Hall.

Hart's union local, which once had more that 150 members, now has only 31, Hart's workday job is that of maintenanceman at the Fifth Avenue Theatre. He also works the Ice Capades and visiting road shows, The Aqua Theatre, symphony concerts and any stage shows that play Seattle.
---
June 1964 Bulletin
---
PRESIDENT WALSH IN PORTLAND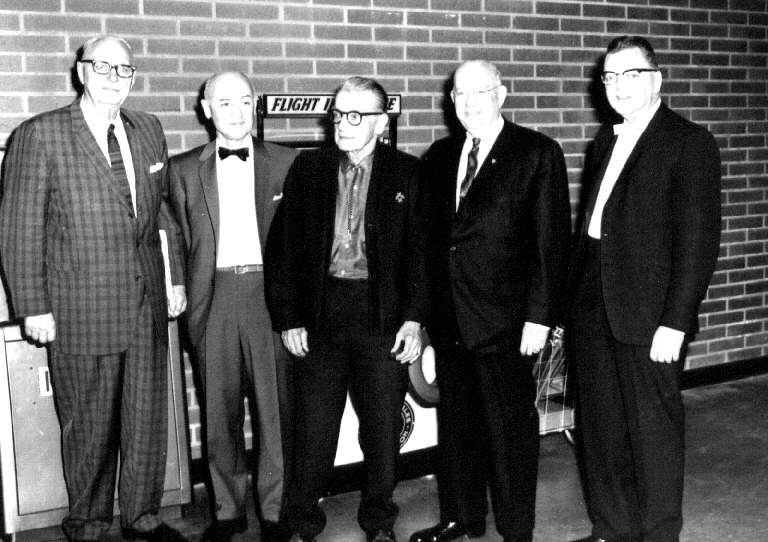 When President Richard F. Walsh arrived in Portland to speak before the American Federation of Musicians International Convention at the Hilton Hotel, on hand to greet him were three Business Agents of I.A. Locals in Portland Oregon. Left to right: Vice President Jacobson, Sid Phillips, Business Agent of Local 159; James F. Morgan, Business Agent of Local 28, President Walsh and Russ Phelan, Business Agent of Local B-20.
---
September 1964 Bulletin
---
DISTRICT NO. 1--35TH CONVENTION
JULY 18, 1964
---
DELEGATES TO THE 1964
DISTRICT NO. ONE CONVENTION
Delegate Name

Local #
City & State
Floyd E. Hart, Jr.
15,
Seattle, Washington
James F. Morgan
28
Portland, Oregon
James Wroten
91
Boise, Idaho
Kim Devereaux
93
Spokane, Washington
Jack C. McNaughton
94
Butte, Montana
Al Bostrom
117
Bellingham, Washington
Alexander McKillop
118
Vancouver B.C., Canada
Ken Dowling
154
Seattle, Washington
Fred Jiencke
154
Seattle, Washington
C.W. Christenson
159
Portland, Oregon
Sid Phillips
159
Portland, Oregon
Frank Carlson
175
Tacoma, Washington
A.E. Tosland, Sr.
180
Everett, Washington
Paul A. Morse
213
Great Falls, Montana
Paul Sheley
234
Walla Walla, Washington
A.R. Bird
240
Billings, Montana
Leonard B. Hinds
254
Yakima, Washington
Merl Olson
339
Missoula, Montana
G.K. Porterfield
344
Olympia, Washington
Frank Smith, Jr.
348
Vancouver, B.C., Canada
A.E. McManus
348
Vancouver, B.C., Canada
D. Cooper
348
Vancouver, B.C., Canada
S.R. Lowrie
351
Anacortes, Washington
N.D. Stark
401
Centralia, Washington
Marvin E. Frost
429
Aberdeen, Washington
No Delegate
445
Bremerton, Washington
No Delegate
446
Astoria, Oregon
George Tegnell
463
Pocatello, Idaho
Jay Teed
613
Salem, Oregon
No Delegate
629
Idaho Falls, Idaho
George (Friday) Henkel
651
Wenatchee, Washington
Hobert Burns
663
Lewiston, Idaho
Robert E. Biehn
672
Klamath-Medford, Oregon
Harold DeLarm
675
Eugene, Oregon
Carmello Amato, Jr.
742
Wallace-Kellogg, Idaho
A.E. McDuffie
785
Coos Bay, Oregon
Josephine Hart
887
Seattle, Washington
Ernest Kerr
891
Vancouver, B.C.
C.N. Gowen
891
Vancouver, B.C.
Russ Phelan
B-20
Portland, Oregon
Alida Chrisman
F-21
Seattle, Washington
Gladys Clark
B-19
Portland, Oregon
---
September 1964 Bulletin
---
Highlights-35th District Convention
Meeting was called to order at 10 A.M., July 18th, 1964 in the Louisville Convention Center, Room 203. Vice President Jacobson acted as Official Chairman appointed by the International. The appointment of Officers was next. Secretary's Report, and each delegate gave his Local's State of Trade reports.

A Resolution was presented by Vancouver British Columbia Local No. 348 to withdraw all British Columbia Locals from District No. 1. Brother McManus was the spokesman for the British Columbia Locals, and said the reason for the request was based upon the fact that their two principal employers were chains spread across Canada, and they felt they would derive more benefits from Canadian District No. 12. The question was put and unanimously passed endorsing Local No. 348's request. The date was set. It will be January 1st, 1965.

With this thought in view, it was necessary for adjustments to be made to keep our District No. 1 Bulletin and our Insurance Fund. The District Secreatary recommended that Per Capita Tax be raised from $.75 cents per member per quarter to $1.00 per member per quarter. This is $1.00 more per year. The new Bulletin will be off-set printing, which will be better reading, look better and in this process we can handle all the pictures we want to use with no extra cost, at the basic price. With our advertising staying the same our General Fund will be in real good financial condition.

On the Insurance Fund the Death Benefit would be raised from $1.25 per death to $2.00. With the British Columbia Locals out of District No. 1, even with this raise, your insurance cost at the end of the year, as I figure it, should remain about the same as it has previously been. These recommendations were passed unanimously by the Delegates.
---
Home Page | Menu | District One History | General News
Education | Links | E-Mail John
---

Visitors Since September 13, 1998
---
A Legends Production