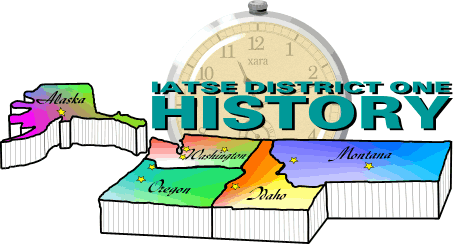 ---
1985
---
TABLE OF CONTENTS









---
Newsletter-Summer 1985
---
Projectionist Reflects On End Of An Era--By Steve Smith: - - Like squint-eyed, cowboys hundreds of Western movies he has projected onto theater screens over the past 43 years, Irvin "Irv" Renz is ready to ride off into the sunset.
"This might be my last year", said Renz, 61, a veteran motion-picture projectionist who works at Missoula's Cine 3 theater. "The projectionist is about on the way out. With automation and all, it's gone pretty much to theater managers doing the operating". Not that Renz minds so much going the way of the matinee, theater ushers, dime popcorn and highly flammable nitrate-base movie film. "It's getting very routine for me because I've done it for so many years", he said as he prepared to do some splicing on "Night Patrol" for the evening show.
A Beulah, N.D. native, Renz still has the motion picture projectionist's card issued to him by the North Dakota State Board of the Electricians in Jan. 1942. The card allowed Renz, who was 18 at the time, to go from the janitor to projectionist at Beulah's Roxy Theater. "It took two people to run the (projection) booth in those days, everything was more or less hand-operated".
Hand-operated and, to some extent, dangerous. "In the early days, projection booths had to be fire-proof, if that nitrate base film ever hit a hot light bulb, it'd burn. Once a film got to burning, your best bet was to get out of the booth and let it burn itself out, I've seen a few fires, but nothing that ever got away from us".
Film characteristics have changed for the better, and so have wages. "I started at $55.00/month, that was pretty good wage in those days." Projectors have also changed for the better from the days of the Simplex machines. "You used to have to oil anywhere from six to 12 places on a projector every night, now that's done automatically."
"In the early days, you also had five or six reels to an average movie. You had to switch back and forth between two machines to get the whole picture shown. Sometimes you'd get the reels mixed up and start showing one you'd already run. That'd take a couple of minutes to fix, but down there, in the theater, two minutes to customers seemed like 10 or 15."
Equally annoying to moviegoers was when a projectionist missed a cue near the end of one reel of film and allowed black-and-white messages such as "End of part 1" to flicker vertically across the screen- "When people would hiss and boo you'd get excited and want to hurry up and get things, going again, the more you hurried, the worse things got. Drive-In theaters were the worst places for that problem. The movie would stop and people would start blowing their horns. You get two or three hundred people blowing car horns and it gets pretty noisy".
Renz entered in the Army in 1943, served as an aircraft instrument mechanic and part-time projectionist until 1946, returned to Beulah, then moved to Hamilton. There, he became a projectionist at the Roxy and Liberty theaters as well as at the Star-Lite Drive-In. Moving to Missoula, Renz had to join Local 339 of the International Alliance of Theatrical Stage Employees and Moving Picture Machine Operators. A fellow union member was the late R.J. "Dick" Hale, a former Missoula County surveyor, pilot and fireworks expert.
Renz and Hale teamed up with search lights and a sizable fireworks display to help add excitement to the Missoula premiere of "Red Skies of Montana" in the early 1950's. Excitement was rare in local projection booths, but Renz remembers when a restroom fixture broke at the State Drive-In, "next thing I knew I was standing in water up to my ankles," he said with a laugh. "We had to shut down for about a half an hour."
The Rialto, situated on the south side of East Front Street in the 100 block, left something to be desired. "The booth was hot and up in the attic, you had to duck under a beam to get from one projector to another. If you ever hit your head, you didn't forget it."
The projection room of the Cine 3, where he operates expensive, semi-automated, Italian-made projectors, is both spacious and air-conditioned. People assume he enjoys watching new movies as they come to town. "I very seldom watch the movies, in the days of single-screen theaters, you often had to piece the film together three or four times. Nowadays, with three screens, you're also kept busy. After I've shown a movie three or four times, I pretty well get it pieced together in my mind as to what it's all about". Renz said he has to go to the movies on his day off to enjoy them. "I go to maybe two or three movies a year, and then they pretty much have to be Academy Award pictures."
One drawback to being a projectionist is the hours. Renz works at night. Another is repetition. He has seen "Gone With The Wind" more time than he cares to think about. There also are friends who ask for passes to the movies and wives who kid you when you fumble with 8mm film while threading your supposedly simple home-movie projector.
Renz, who went to Hollywood to see the movie business from a different angle, is looking forward to some travel with his wife, Viola.
---
About District No. One--By Thomas Watters, Jr.: - - In the last newsletter at Christmas time, mention was made regarding the District Convention proceedings and our revised Constitution and By Laws.
These have been approved and endorsed by our International General Offices. They have been copied and sent to the Secretaries of all local affiliates of the District. If additional copies or further information regarding these are needed please contact your secretary or the District office.
The District Death Benefit Fund now pays $1,450.00 and will increase to $1,500.00 effective 1 January of 1986. A complete report on this fund will be made to the delegates at our 1986 convention.
We have lost two more local unions from District No. 1. The Moyer foundation took over the motion picture theatres in Anchorage Alaska. Local 770 could not negotiate any reasonable agreement with this company so have had to return their charter.
This same anti-union company took over the theatres in the Lewiston, Idaho area and, therefore, caused Local 663 to fold up. The Projectionist Locals continue to be plagued and decimated by the uncooperative employer.
The General Executive Board of our Alliance is holding its summer session in Seattle, Wash. beginning the 12th of August this year. These meetings can be attended by any member belonging to a local union of this Alliance. Also, any member can appear before the Board upon proper notification to the General office. Communication on this subject has been sent to all local unions of this Alliance. Further, a special seminar is being held on the 14th of August and the General Offices has extended an invitation for interested members to attend. Your secretary has information on this subject.
Again, I must impress upon the readers of this newsletter how sad it is that we can not achieve better support from the local unions of this District of five states in getting some news to print. It would help give us a fuller view of our jurisdictional problems and achievements.
Back to Top of Page
---
Missoula, Montana, Local 339--By Irvin A. Renz: - - This shall by my last report as I plan to go into retirement plan. I have been with Carisch Theatres now for the past six months. My operation time has been about twenty to twenty-five hours per week, since I punch a time clock. I have had to apply for unemployment compensation to make ends meet the living costs.
The Carisch Theatres are now remodeling the Village Twin to become a six-plex with the automated equipment. Opening date set for the end of June 1985. The Triplex or Cine 3 is to be automated with the platter system, manager-operator. The World Theatre is to be closed or open only on weekends. The Carisch Theatres box-office has also been put to the computer system. The jobs that are left are to become a computer operator, snack-bartender, or mechanical engineer, janitor, the all around repairman.
The University Drama and Dance Dept. has finally moved into their new building. This was quite a move, lots of work and additions and adjustments to be made in the use of the shops and theatre stage. The new building is to be called the Performing Arts Radio-TV Theatre, (PART). I hope to have the University Stage people to carry on with the Missoula Local. "SO LONG UNTIL WE MEET AGAIN".
---
Seattle, Washington, Local 154--By Thomas Watters, Jr.: - - Our previous article made mention of our general negotiation for the Projectionists in the greater Seattle area.
We have finally consummated practically all negotiations. What we refer to as the general group consists of SRO, General Cinema, Landmark Theatres, Forman United Theatres and Stage Fright. Highlights concerning this group includes: contract retroactive from September 1984 to March of 1988; wage increases for the term of the contract ranges from a total of .25/hr. in singles and Drive-In's to .85/br. in multiplexes; maintenance of benefits type agreement for our Health & Welfare; IATSE Pension contribution beginning at $2.55 shift graduating to the $3.00 rate in the last year; increase graduation to .75/hr. on our overtime rate.
That is the birds eye view of the plus column. Not to elaborate, but many conditions and options were afforded the employer in order to achieve what we did. Overall, and in times like we are witnessing, I think the members felt they accepted the best deal we could get.
For the first time, we made a somewhat different type agreement with the Seven Gables Corporation. They operate Seven theatres in our area. The one biggest achievement was in the fact the contract covers the Projectionists manager type operation. Duties, conditions and wages are completely spelled out and listed in this contract. Previous contracts with this company have been the same as our general group. In the absence of any reference to managerial duties or salaries has caused problems previously. Now it is in writing and agreed by parties' signatory. Time will tell. This contract expires September of 1987.
As if we do not have enough non-unionism in our town, we can now add the United Artists UA 150/70 to the list. After almost a year of talking with this employer and with International Representative Joe Caplan assigned to assist us, we could not change the direction of this employer. They insist the skilled union projectionist is no longer needed. We were terminated from their employ as of I May 1985.
And so, to date, we have three nonunion theatres we are actively picketing with an informational picket program. Added to this, including the United Artists Twin, we are picketing three others with an "On Strike" picket program. We are certainly hoping for some "changes for the better" in the future.
We are presenting four retired members with 50-year scrolls this year. These are made up direct from the IA General Offices and are very impressive; any person who has been a member for fifty years of one or more local unions of the IATSE is entitled to this award. Our four eligible members are Don Dvorak, Elmer Johanson, Harry Miller and Frank Dunham. They were all initiated into Local 154 in 1935.
Sad News of the year for Local 154 was in the death of Dean Skillingstad. Dean was initiated into this Local in 1947. He died on the 11th of January 1985. In that period of time Dean not only worked practically all (if not all) motion picture theatres in our jurisdiction but strengthened his skills by filling in as a Stagehand for Local 15. He was not only diversified in his talents, but was a good worker and a fine union oriented man.
Dean never traveled through life unnoticed. He worked his way up to the Executive Board as President of Our Local. After resigning that job, it was a few short months until the President of our Alliance seeked him out to act on his behalf an International Representative. He held that job until his death.
Dean never traveled through life unnoticed. He worked his way up to the Executive Board as President of Our Local. After resigning that job, it was a few short months until the President of our Alliance seeked him out to act on his behalf an International Representative. He held that job until his death.
So far this year we have taken in nine new members. This builds our membership back up to 100.
---
Newsletter Christmas, 1985
---
Anchorage, Alaska, Local 918--By Denice Jewell: - - Brothers and Sisters;Happy Holidays and Greetings from the unfrozen north, Local 918, Alaska. We hope your holidays were as warm and snowless as ours.

1985 has been quite a year for Local 918. Our membership has grown, officers changed, and we've had an influx of "fly by night" promoters and promoter bankruptcy. We've lost a little money, but gained an enormous amount of experience. We still don't have the best answer as to how to deal with these situations and would welcome any and all advice on the subject. Willie Jackson is our Business Agent and you can write him at Local 918, P.O. Box 103904, Anchorage, Alaska 99510. Many thanks ahead of time for your thoughts and expressions.

On a lighter note, we would like to welcome Diane March, Vince Campanella and Mike Carr to our membership in 1985. One member was dropped bringing a total of 35 members to our rolls, with 3 new applications pending approval of the International. 1986 promises to be a good year.

1985 also brought us face to face with the Alaska Department of Labor challenging our status of Union or Employer. Of course precedent has been set all over the country and Canada on the subject. We incurred unnecessary and healthy legal fees over the issue. In September the ruling was finally made and, of course, we are legally a Union. The challenge was a waste of time and money, but in keeping with antiunion administration that we are presently experiencing, yet we did prevail. Happiness and Cheers for all in 1986.
---
Seattle, Washington, Local 15--By Mylor Treneer: - - Business has been good for two years in a row now. Our current membership is 120 with the expectation of adding 6 new members in 1986. Our "extra" list currently has over 100 people.
We were able to work on a few movies this year, Chase, Power, Dark Mansions and the Rape of Richard Mills. We had one movie cancellation early this fall that would have stared Sylvester Stallone.
---
Seattle, Washington, Local 154--By Thomas Watters, Jr.: - - The Motion Picture exhibition business has been up and down the last six months of this year in the Seattle area. Overall, though, the grosses seem to average out towards the positive side.
We have had a reasonable amount of activity, too. SRO remodeled the Uptown Theatre located in the lower Queen Anne area. It was transformed into a Triplex earlier this year and appears to be doing quite well. It is a beautiful unit and SRO should be commended on restructuring that facility.
In the University District the Seven Gables Corp. operates the Varsity Theatre. This theatre was built in about 1939 and ran for years with a type of Art and Foreign Films policy. Seven Gables remodeled that into a Triplex. Since the added units were placed above the existing Varsity, they included an elevator. Reports are they are satisfied with the added business. Member Teri White keeps her nice trim figure doing her job there as Projectionist/Manager.
A few years back east of Lake Washington just south of Bellevue, SRO demolished the old Sunset Drive In. In its place they erected a five plex, the Factoria. As of this writing they have now added units making it into an eight plex. Another nice project by SRO with members Ben McRae and David Miller still scratching their heads to see if they can make it all work.
By about April of 1986 SRO is hoping to have a new Six plex erected just west of the Northgate area on Aurora Avenue.
With the exception of a couple independent theatre owners, all contracts are consummated and should hold us to 1987 and 1988.
With that array of good news, we are still plagued with the non-cooperative employers. We continue to picket and advertise against the United Artists Twin downtown Seattle, the Coliseum of the Moyer regime in downtown Seattle, the Aurora Village Four plex in the far north end, the Parkway Plaza five plex in Southcenter, Kent Cinemas Six in Kent, and The Crossroads Quad east of Bellevue. With the continued support of all members of Local 154 we will not cave in to these unfair employers. We feel we must support and cooperate with our cooperative employers and continue our plight to inform the entire public of the cheap "money hogging" attitude of the anti-union employer.
Our membership now stands at 96. This year we have lost seven members to death, withdrawal or expulsion. We have taken in ten members this year.
Speaking for the members and officers of Local 154 we wish the happiest of greetings to all members of all Local unions of District No. One this HOLIDAY SEASON.
---
About District No. One--By Thomas Watters, Jr.: - - I will continue to attempt to come up with ideas on how to entice the various local unions of this District to participate in this Newsletter. A few words of information and happenings in your area is all that is needed.
I offer you an opportunity. Write a Book. It will be a Bestseller. Entitle it "Life On A Freeway". Then fill up the ensuing pages with a dissertation about "Where we are going" and "Why we are going" and "Why we are going so fast" and "What we are going to do when we get there" and most important "What was in between".
There is an old saying "Time tends to pass us by one day". Well, in this age, never fear. Time slowly ticks away and we truly fly right on by and continue to race far ahead of ourselves. We are far too busy to ever catch up with ourselves, let alone ever to keep pace with time. It appears to me that we are so concerned about solving the problems or tomorrow, we forget to take care of the duties of today. We get mixed up, I think, with preparing for the future vs. living today.
Well, summing it up let me caption it this way. Maybe, since life is predicated on a priority system anyhow, we should reorganize our priority list of things to do. Maybe some dumb and unimportant idea like "first things first". Then, perhaps but only perhaps, we could get some participation of the various locals of this District into the Newsletter.
In August of this year the General Executive Board of our Alliance held their summer sessions in Seattle. if you will refer to the I.A. official Bulletin. NO. 531-Autumn 1985 you will find a run down of events that transpired during that week. There was a reasonable attendance from members of local unions in District No. One. Perusing the records I could find only one other time in the history of our Alliance-when the General Executive Board met in Seattle in 1938.
Speaking of time again, it would seem we should begin to think about our District Convention at Ft. Lauderdale, Florida. As of this writing the date will be Saturday, 12th July of 1986. Credentials for delegates will be sent out in ample time as well as complete reports and financial statements prior to the Convention. There will be only one more Newsletter before July of 1986. I will be in contact with the Secretaries of the local unions.
This time of year should provide added happiness and cheer in our lives. To all of you a MERRY CHRISTMAS and a HAPPY NEW YEAR.
---
Home Page | Menu | District One History | General News
Education | Links | E-Mail John
---

Visitors Since January 9, 1999
---
A Legends Production