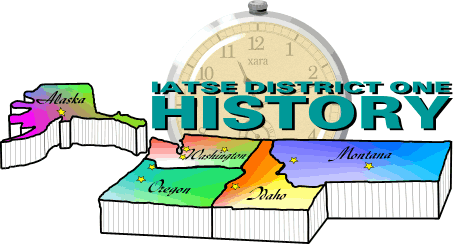 ---
CHRISTMAS NEWSLETTERS
1991 and 1992
---
TABLE OF CONTENTS














---

Christmas 1991 Volume 69
---
About District No. One--By John R. DiSciullo: - - We now have had a year with United of Omaha as our District Death Benefit provider. There are 98 members who have received paid-up policies of $1,500.00, and we are paying on 489 members under age 72. When they become 72 years of age they will receive paid-up policies from United of Omaha. If you have not filled out a new enrollment card for your Death Benefit Policy, please do it now. If you have not gotten one from your Local, please ask for one or write me directly and I will send you one.
As we end 1991 the membership of the District has stayed about the same with no great increase or decrease in membership. During 1992 we should see an increase in membership due to the International issuing a Studio Mechanics Charter for the Oregon and Washington area. In the past four months the movies being shot in Portland and vicinity have increased and all have been nonunion. In Seattle, the situation isn't much better. I feel it is time to try, with Studio Mechanics, to stop the flood of nonunion pictures being filmed in Oregon and Washington. It is going to take a lot of work to stop the non-union films but with the help of the West Coast Office to get this Local started right, it can be done. The Film Commissions of both states are selling this area to producers and then the producers bring in their own crews to do the work. Not only are these crews non-union but in most cases from out of state. I hope by next year I can report that part of this problem has been solved and that the I.A.T.S.E. is doing the work.
The membership of this new local will be from the Portland, Eugene, Seattle and Spokane areas. The charter application was signed by about fifty people who also filled out membership applications at the same time. After the first of the year Sandra England, from the West Coast Office, will be holding meetings with the charter members to establish dues, initiation fees and elections of officers. It's a big job, but the International is going to help get it done right. If you have any questions about the new Studio Mechanics Local please write me and I will try to answer them.
Have a Merry Christmas and a Happy New Year and I am hoping that 1992 will be a prosperous one for all the members of District No. One.
---
Missoula, Montana, Local 339--By Philip N. Stauffer: - - Local 339 is quickly becoming an active presence in Western Montana. During this past year of 1991, four experienced stagehands from the Great Falls area and two skilled student technicians from the University of Montana entered our ranks. Near the end of 1990, two other former students became members and found work; so ... In the space of 13 months, Local 339 has jumped from 15 members to 21 members. In addition, four more potential members are "waiting in the wings.
All of this interest in membership has to point to some attractive bait. Here in Montana, that bait is work! Last spring, a stage crew was put together for a highly successful tour appearance in Missoula by "the Magic of David Copperfield" show. In the month of December (just in time for Christmas), a Sesame Street Live production of "Sleeping Beauty" comes to Missoula for a two day run. And, Sister Mary Keele has been able to make statewide contracts in several parts of our jurisdiction (Great Falls, Helena, Butte, Livingston and Bozeman, to identify a few) in order to stimulate the use of I.A. stagehands by musical theater groups, fair boards, ice skating and boxing shows.
To add spice to our life, movie location work also seems to be plentiful. Brother Otto Keele became the Master Carpenter for Robert Redford's production of "A River Runs Through It." Filmed largely in Livingston, this movie is a film adaptation of the immensely popular novel by Norman MacLean. Another movie is currently on location, I believe, in the Hamilton area south of Missoula. Although not within our jurisdiction, Tom Cruise and Ron Howard chose the Billings area for a multi-million dollar epic presently titled "Far and Away.11 With several movie actors, a screenwriter or two land Ted Turner owning land within Montana, the movie community is bringing their dreams to Montana locals. Local 339 is proudly helping to shape, those dreams.
Our membership extends our fervent hope, for a peaceful, bountiful and holy Christmas celebration among I.A. members and their loved ones everywhere.
---
Seattle, Washington, Local 887 - - Holiday Greetings to all from Seattle Wardrobe Local 887! Your Northwest Dressers are hoping with shows at the Fifth Avenue Musical Theater, the Paramount (Best of Broadway Series), the Seattle Rep, Opera and of course the Ballet which is gearing up for the Nutcracker. Throw in a couple of Industriales and you've got one busy local. We currently have 21 members, including 2 charter members for 1961, Jo Hart and Etta Dahlbeck, who will work if we can stop them from globe trotting long enough to do so. Close behind is Elva Shodo, (member since 165), the Backbone of the Ballet, Betty Blake and all the rest of us plus some 70 extras at last count. Everyone knows in this business it's either feast of famine, but for the most part everyone here is happy and healthy. We wish to extend Holiday Wishes for a Happy Season to all in District Number One.
---
Portland, Oregon, Local 28--LIBERTY, DEMOCRACY AND THE FORGING OF AGREEMENT--By Phillip LaFond: - - These are difficult times. We seem to be floundering in many ways as a culture. Our current economy is less than healthy and the tides of the times seem to have called into question many of the basic values and ethics that our forefathers established and held dear. As workers we are not alone In this seemingly inhospitable climate of change; our employers, their clients and our communities are experiencing comparable demands. There is an inordinate amount of pressure on us all to make difficult decisions in short order. These decisions will affect both the health and security of our organizations, as well as our own well being and that of our culture at large, for many years into the future.
It is increasingly important that we think from the collective mind and be impartial, reasonable and fair in our communications and actions with each other. To this end we as a civilization have chosen to conduct ourselves in a democratic manner and subjugate our personal wishes and needs to those of the group. At the same time we recognize the sanctity and basic rights of the individual and free thought. These basic tenants of democracy and liberty must be maintained above all other concerns, for without agreement on this; the foundation of our civilization, there can be nothing but anarchy and chaos. Liberty and democracy are inseparably intertwined concepts.
Henry Robert, the author of Robert's Rules of order said: "Where there is no law, but every man does what is right in his own eyes, there is the least of real liberty." I Believe that these words also infer that it is only from understanding and applying the concepts of democracy and liberty that wisdom is achieved and that this understanding is attained only through the concerted efforts of communication. The best (indeed, perhaps the only) way to facilitate making wise choices is for us as individuals, and collectively as a Union, to tap the maximum of creative thought and efforts available to us. The key concepts here are communication and agreement. This is a plural and dynamic process - it involves listening and reading as well as speaking and writing. It involves you as well as me, them as well as us. An agreement is a continually evolving relationship and understanding between persons and entities based on reason and regard for the rights of individuals (both present and absent), the minority, the majority and all of these sub groups together.
In order to make sound agreements, we must not only have the concerns of our Union at heart but also the needs and responsibilities of our employers, their clients and the larger society of which we are members. Any successful solution to the challenges confronting us must be reasonable and accommodate all party's concerns. The parties to an agreement must approach mutual concerns with resolve. We should not look at each other as adversaries, for in reality, we are allies.
Change is not something to fear - in fact, quite to the contrary; it is an opportunity for growth and significant gains. our differences are our strengths; it is through our differing approaches and expertise that a truly innovative solution to problems may be reached. We must look to ourselves and each other for strength and the ability to represent our craft, our Union and ourselves in new and better ways to our employers, potential employers and to the larger community in which we live. We need to collaborate and muster all the creative thought that we can to resolve the dilemma as which face us and assure the continued viability of our Union and our performing arts industries. We must rise to these challenges with energetic hands and clear minds ready and willing to accept what is and, with resolve, create what will be our future and heritage.
---
Seattle, Washington, Local 154--By John DiSciullo for Thomas Watters, Jr.: - - Tommy call me the other day to tell me that he was late getting a article to me and asked me to put a few line in for him. It's big shoes for me to fill, but I'll try.
In talking to him he mention to me a few problems he was having in Seattle. One with Photo and Sound Company over payroll due both Local 154 and Local 15. They have filed bankruptcy under Chapter 11 leaving unpaid wages to both locals. This has not been a problem in Portland, as we have not done any work for them in the past months.
In talking to him he mention to me a few problems he was having in Seattle. One with Photo and Sound Company over payroll due both Local 154 and Local 15. They have filed bankruptcy under Chapter 11 leaving unpaid wages to both locals. This has not been a problem in Portland, as we have not done any work for them in the past months.
The other item was a new contract with Cineplex Odegon. Not making any progress and has asked help from the International. On the same subject, in the Oregonian on December 14, 1991, one headline was "Act III buys local rival in Portland. The Norman Lear cinema chain increases its lock on Portland by acquiring Cineplex Odeon's theaters. The deal, terms of which were unavailable, included the new eight-5creen theater set to open in Lloyd Center on Dec. 20 and the six screen 82nd Avenue cinema. The 82nd Avenue theater began operating under the Act III banner Friday. When the Lloyd Center Theater opens next week, it will bring to 93 the number of screens operated by Act III in the Portland Vancouver market.
I guess we could say the big get bigger. Maybe with the extra money they got of the sale in Portland, 154 will be able to get a new contract with Cineplex Odegon and also Local 175 in Tacoma.
Christmas Greetings to all the Local Unions and their members of District No. One and let us all look forward to a prosperous New Year.
---
Spokane, Washington, Local 93--FROM THE PAST-WINTER 1974, By Raymond A. Garcia: - - Now that the exposition has gone, most of the members employed by the fair are resting or on vacation. Looking back on the world's fair held in Spokane, I can't help but think what an asset the fair has been to the city, as well as for the projection and stage business. The opera house built for the fair has long been due in Spokane, and I'm afraid that the city would have had to wait many years in building this kind of a house with a different financial arrangement. At any rate, the world's fair will be something the people of Spokane will look back on with pleasurable memories.
The city has now taken over the opera house, and a convention center adjoining the opera house will open April 15, 1975. The convention center will provide additional work for the stage crew.
Now that winter is approaching, the drive-in theaters are closed, with the exception of a few who will stay open during the weekends until the snow flies.
Looking ahead somewhat at the work situation, things have slowed down considerably. The Seattle Opera Company played the opera house, and Ice Capades will move into the Coliseum December 24th. Several rock concerts are scheduled at the Coliseum, and a few western shows will play the opera house.
In conclusion, the year 1974 in Spokane was a flourishing one, and I would like to wish everyone a very Merry Christmas and a Happy and prosperous New Year.
---
Seattle, Washington, Local 93 - - Local #93 would like to wish all of you and your families a very Merry Christmas and a very prosperous New Year. We have had an interesting year that was highlighted by the rewrite of our Constitution and By-Laws.
The voters in Spokane County have recently approved the construction of a New "Multi-Purpose Entertainment Facility" to replace the Spokane Coliseum. The Facility should give a nice boost to the Entertainment, Sporting and cultural needs of the community.
Some members of this Local have shown considerable interest in the new Studio Mechanics Local that is being proposed for this region.
Local #93 would like to acknowledge Bob olive and Harold Brower on the reception of their "Gold Cards". Yet, we must also acknowledge the passing of Brother Leo Vigil and Bob Nix. Brother Vigil entered the Local in 1919 and served us in nearly every position possible. He attended meetings regularly until just prior to his passing. They will both be missed very much and we would like to again to give our respects to their families.
We are looking forward to 1992 with enthusiasm and hope that you can do the same. Again, we would like to wish you and yours the very best for this and all future "Holiday Seasons.
---

Christmas 1992 Volume 70
---
From The Secretary--By John R. DiSciullo: - - As we end 1992 the membership of the District has increased by two hundred members due to the Charter of I.A.T.S.E. Local 488, Studio Mechanics of the Pacific Northwest. This brings the total members in the District to 750.
Every year I must remind all members covered under District Death Benefit Fund should have an enrollment card on file with me. If you need to fill out a new card or change your beneficiary, please do it now. If you can not get one from your Local, please write to me and I will send one to you. In case of your death the designated beneficiary I have on fill will receive the $1,500.00. Also if your beneficiary is out of your home state, please see that the address is also shown on the card. If I can not find where your beneficiary lives to fill out the forms that United of Omaha requires no payment can be made.
With the election of Bill Clinton to the presidency of the United States, I hope we can look for some great changes, and all locals should be doing the same when it comes to Education of your members. To quote an article out of the Education Scene, published by the International, which states:
WHY HAVE A LOCAL EDUCATION PROGRAM?
"Locals can help to meet members, needs by sponsoring member education programs. Educational efforts can provide members with the skills to advance their jobs, keep on top of the latest technology, and attain personal goals.
Types of union-sponsored training programs include computer skills, new technology skills and job skills enhancement, labor education, reading and writing, and English as a second language. Such programs give local unions the opportunity to build support and develop rank and file leadership. Also, as a result of membership educational programs, job security can be increased and relations between labor and management can become more collaborative and less confrontational. Locals may administer these training programs themselves, with assistance from the International. In addition, some locals may be able to develop a joint program with an employer, or work with a school, college or university in their respective areas."
This training is greatly needed to keep our locals up with the new technology, which is coming out every day.
1993 will be the Internationals Centennial Convention in New York. I am hoping that all the Local's in the District can send a delegate to this Convention. I am putting together an add for the Centennial Journal which will list all the Local's in District No. One. Will inform your Local of what it will cost each local soon.
Have a Merry Christmas and a Happy New Year and hope that 1993 will be prosperous for all members of District No. One.
---
Seattle, Washington, Local 154--By Thomas Watters, Jr.: - - This past year of 1992 has resulted in some dramatic changes for Local 154. The Notion Picture exhibitor has pushed hard to implement the bottom line of our contracts. Where we have, in effect, lost jobs we have been able to maintain jurisdiction. The example being that where we previously had two plus full time jobs in a particular unit, we were cut back to one full time job. Another instance relates to the combining of separated units. This mostly concerns a single screen theatre, but has resulted in losing one mediocre job.
In their cases we were able to increase wages and benefits for jobs being retained, but the sacrifice was the people cut out.
Combine this with our ongoing dilemma with the ACT III Theatres in our jurisdiction that we have been unable to negotiate with since they purchased the Moyer circuit a few years ago. They have about s ix or seven units in our area. Then this same year Cineplex Odeon decided to sell some of their units to ACT III. In our jurisdiction it resulted in the two multiplexes in Bellingham. After lengthy discussions and, only with the help of our International, were able to procure an Agreement with ACT III on one of the units. We ended up with a 25-hour guarantee with No benefits. It was the best we could do and we, reluctantly, ratified it. Term of Agreement is for one year. This is the first time ACT III has agreed to any semblance of a Collective Bargaining Agreement with a local union of our Alliance.
To compound the situation ACT III is building a Ten Plex in our jurisdiction in Everett. This location is within walking distance of two General Cinema theatres we have a contract with. Again, with the help of our International, we are pursuing to get these people of consider using the Union skilled Projectionist at this new multiples.
With all this we have, the past year, negotiated contracts with our major exhibitors. We have contracts with Landmark Seven Gables expiring August 1995; Cineplex Odeon until May 1994; General Cinema to February 1995. By virtue of an IA International Agreement we have acquired two members working for Hughes AVICOM at the Sea Tac International Airport. We, too, have agreements with the I MAX Omnidome Theatre and the Mt. Baker Theatre in Bellingham.
All our contracts, with the exception of that one ACT III agreement, carry fringe benefits of guaranteed hours, Health & Welfare Employer contributions, IATSE Pension contributions and 2 to 4 week annual paid vacation depending of longevity.
I will close by stressing my opinion, as I have done in the past, towards the merger of the local unions in our District. We need to move farther and faster in this direction. For the future of the goal of blanketing the area with our skills.
Finally, from all members of Local 154 to the members of the local unions comprising District No. One of this Alliance, let us wish you a Merry Christmas an hope for a prosperous and healthy 1993.
---
FROM THE EDITOR: - - As December 19, 1992 has came and gone with not much response for the Local's in District No. One I am filling in this last space in a smaller Newsletter with the following: :
I hope all of you will read the articles that have been printed and maybe a little will rub off on each of you and you will help your own UNION to progress in 1993.
At the District No. One Convention in July 1993, I will ask the Delegates to vote to discontinue this Newsletter. The expense of printing and mailing is getting out of hand. We can continue if they wish, but Per Capita will have to be raised. Let me know what you think as a member of District #1.
---
Missoula, Montana, Local 339--By Phil Stauffer: - - Local #339, representing Western Montana, is pleased to extend warm wishes for a peaceful celebration of Christ's birth to our fellow locals.
This past year of 1992 has been productive despite some setbacks. Meetings were held and contacts made to officially designate the jurisdictional lines for Local *339; the result is that we now bear responsibility for all of Western Montana to a point halfway between Butte and Billings. Sister Keele and Brother Otto Keele helped to make this vision a reality. Brother Otto has also become the full-time T.D. for the Helena Civic Center and has been using our local's membership for crew calls. Speaking of membership, we have taken in three new members this year (Brothers Bill Keele, William Smith and Dan Ledbetter) and lost one by transfer (Sister Catherine Dixon). Our B.A., Sister Mary Keele, has been busily engaged in numerous phone contacts to increase awareness of our availability in this area. Several touring productions have employed our members: Kenny Rogers in Great Falls, Def Leppard in Billings, the Western Opera Theatre in two locations and the Montana Repertory Theatre based at the University of Montana hired Brother Bill Keele as T.D. for it's productions of "Romance/Romance" and "the Real Thing". Three union stagehands traveled with the Montana Repertory Theatre tour last spring. Local #339 supported the work of the Montana Family Union in their efforts to increase the number of Montana citizens supporting the goals of the labor movement in our state. Movie location work continues to be attractive, based on inquires made to the Montana State Motion Picture Promotion Office; and it was good to learn that a proposed strike by the screenwriters did not happen.
As many of you are aware, the General Office and the I.A. Conventions have raised the cost of the I.A. per-capita stamps; so dues in the Local *339 have also edged up.
The next I.A.T.S.E. Convention should be a memorable occasion since it is the I.A. Centennial Year. Brother Irvin Renz has submitted some historic documents form our area to add to the festivities. And, in order to promote the use of union made products and union-provided services; Local #339 helped to sponsor a Union Label and Service Trades Department charter in Montana.
Finally, this past fall was a time to support our labor-endorsed candidates for public office; hours of effort brought forth many victories for which we should be grateful. Thanks to union votes and worker malaise, the new year of 1993 holds promise for progressive, invigorating change. Local #339 happily looks forward to working with many of you as we create a better tomorrow.
---
Portland, Oregon, Local 28, By Jim Burbach--This "PRESIDENT'S MESSAGE" appeared in Local 28's December 1992 Newsletter "IN FOCUS": - - In the very near future our union will be faced with some historic challenges. How well we fair will depend on the success of three vital activities. These are simply described as: ORGANIZATION, EDUCATION, and COMMUNICATION. These three subjects form a synergistic triangle with no one area being completely effective without participation by the other two.
Efforts in ORGANIZATION can best be seen in the work done by our Recruitment Committee. For the first time in the Local's history, talented individuals are being draw from throughout our diverse community. Most of these people have never been exposed to trade unionism before and are quick to learn of its benefits.
What logically follows is EDUCATION. It is up to the Education and Apprenticeship Training Committees to see that each new worker gets the necessary instruction in becoming a better stagehand. Continued education by all members will insure that we have the best people for the job.
The fact that you are reading this proves that COMMUNICATION would not be possible without this newsletter. Some of you have been kind enough to comment on the articles I have written. I can think of no better way than "IN FOCUS" to keep our members informed. I greatly appreciate the efforts of the newsletter staff along with the Recruitment, Education and Apprenticeship Committees. Never before have so many members served and never before has it been so important.
---
Portland, Oregon, Local 28, By Ron Wilson: "FROM THE EDITOR" appeared in Local 28's December 1992 Newsletter "IN FOCUS" - - There are several key issues facing us in 1993. In order for this Local to survive and thrive we must all work together. This means getting involved and donating some of your precious time to the Local. Leaving only a few people to do all the work is the quickest way to burn out those individuals. Then what happens? Who picks up the ball and keeps it rolling? Or do we flounder because of our own ignorance?
I believe in unionism when unions do not make unreasonable demands. I feel our Local is fair in our dealings with employers and in our current wages and benefits. I would like to see us make some gains to keep abreast with inflation and to obtain more and better health care coverage. Accomplishing these ends is no easy task. The members who have done this in the past have spent considerable time and energy to bring us to where we are. Yes, there are some problems with our current contract and we would all like to see our health insurance coverage provide more and better types of coverage. If you feel that you want a better contract with more benefits then get off your tail and do something. Don't bitch if you don't try to help. And don't feel that you need a college degree to be of use in the process. Every bit of input is of use and, with every involvement you pursue you will grow as an individual and a member. We have a good Local with and you make it better.
---
Home Page | Menu | District One History | General News
Education | Links | E-Mail John
---

Visitors Since February 27, 1999
---
A Legends Production