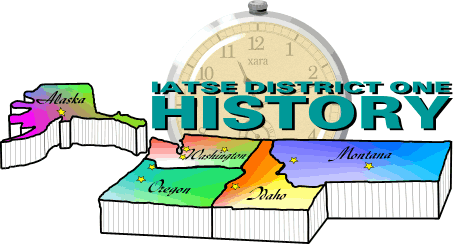 ---
STATE OF THE TRADE REPORTS
FOR THE PERIOD 1991 to 1993
---
TABLE OF CONTENTS








---
LOCAL 15, SEATTLE, WASHINGTON
Submitted By: Jacob K. Smith, President
---
At current enrollment of 142 Journey level technicians, 25 Apprentices and 193 Permit workers we continue a trend of growing membership. Our gross income for 1992 was $158,000.00 with a slight yearly increase per year over the last several years.
I can report we have met recently with Sandra England, a Northwest Regional Rep. to discuss the future of organizing the unorganized in our jurisdiction. At the General membership meeting a week later we successfully received acceptance from the body, on the Executive Board's recommendation to form an Organizing Committee to pursue this concept. We look forward to utilizing the resources and involvement that Sister England has so kindly offered.
The rock shows are still on the down side and we are temporarily loosing a major venue due to construction and renovation but look forward to its completion in 1995. Another Convention Center is being built in Bellevue, Washington which we look forward to providing Audio Visual Technicians for.
We still receive many requests from Brother Local's for information about our Apprentice Program which has functioned quite well since its inception in 1990.
As part of our Public outreach Program we have recently began placing advertisements in ENCORE show programs for the Opera, Rep, Symphony and Ballet which congratulates these institutions as well as bringing notice of the celebration of our Local's Centennial.
I am proud to be attending this convention in the company of Floyd Hart Jr. who serves as Alternate in place of William Rearick, the current Business Agent. Brother Rearick is unable to attend due to his attendance at negotiation classes at the George Meany Institute that the membership voted to send him to.
Therefore, though the business is still in a lull, we in Local #15 look forward to the future and using this time to improve our Apprentice Program, Worklist and organizing venues in our area.
---
LOCAL 28, PORTLAND, OREGON
Submitted By: James P. Burbach, Local 28 Delegate
---
The big news in Portland and, I suspect, District One is the birth of Studio Mechanics Local 488. The impressive number of new members demonstrates the need for a strong I.A. presence in this growing area of our industry. Several of our members have also joined Local 488.
As for Local 28, our membership continues to grow. We currently have approximately 125 members. Just over thirty of those are apprentices registered with the State of Oregon.
At this moment, we are in the process of contract negotiations with a tri county bureaucracy known as METRO. Subdivisions of this agency control operations of the Civic Auditorium, Civic Stadium, Schnitzer Concert Hall, and the Performing Arts Center.
This month METRO and the City of Portland turned over control of the 12,000 seat Memorial Coliseum to the Portland Trailblazer basketball franchise. This put us in the position of competing for the same work we have enjoyed for over thirty years. So far, our relationship with the new management has been amiable and I am confident that we will reach an agreement before the end of the year. This agreement will hopefully include the new arena that the Trailblazers have begun constructing next to the Memorial Coliseum. The success of our association with the Trailblazers can be attributed to an active, hard working membership and the efforts of our recruitment program.
If two contracts pending were not enough, we also have a third with R.A. Reed Productions. This is a small shop contract that could affect about a dozen people.
The quantity of work in our area appears to be improving. We have even begun to work more events at the Oregon Convention Center, where management there has been reluctant to enter into an agreement.
As a note of interest, a recent ruling by the Oregon Court of Appeals upheld a decision made by the Worker's Compensation Board in the case of Potts v. KOIN-TV. The disagreement arose as a result of KOIN-TV's claim that Mr. Potts was hired as an "independent contractor" at the time of his injury, thus releasing them from any claims for compensation. Since Mr. Potts had been told where, when, and how to perform his work, the Worker's Compensation Board decided, and the Appeals Court reaffirmed, that he should enjoy the sane rights as any other employee.
---
LOCAL 93, SPOKANE, WASHINTON
Submitted By: Pat Devereaux, Local #93
---
Current membership of Local #93 is 49 active members.
While writing this State of the Trade Report for the Centennial Convention it is tempting to dwell on the dark issues affecting Local #93 and the labor movement in general.
Initially I will address the positive things that have happened in Spokane during the three long years since the last convention.
Our membership is at its highest in forty years; we have expanded our roles to included utility and wardrobe members. We have a good relationship with our key legitimate employer, G&B Presents, and have an ongoing good relationship, although no contract, with the city facilities.
Finally, construction is about to begin on a new Spokane Arena to replace the aging Coliseum.
It is with great sadness that I have to report there are no operators working under contracts. As has happened in many areas, the union motion picture machine operator has gone from a dying breed to virtual non-existence in Spokane.
It is with great anxiety that we see what for the past ten years or so was that staple diet of stagehands, the "ROCK SHOW", either coming to Spokane after playing one of the many Non Union venues in the Northwest: W.S.U., Tri-Cities, the Sun-Dome, the Tacoma Dome, and of course the "Gorge", or skipping us altogether.
While looking to the future and the opening of the new arena there is still much anticipation as to how we will fit in with a new operation.
As do all the locals in the International, Local #93 must meet these challenges, for in a few years these will be history as new challenges arrive for Local #93, the International, District #1 and organized labor everywhere.
---
LOCAL 154, SEATTLE, WASHINTON
Submitted By: Frank J. Baird, President, Local 154
---
With the merger of Local 117 the jurisdiction of Local 154 now extends over half the population of Washington State and almost a quarter of its area. We cover from SeaTac Airport to the U.S.-Canada border and west to Kitsap County on the Olympic Peninsula. The greater Seattle area comprises 90% of our jobs with its population base of 1.5 million.
We have, about 30 places of employment with roughly 45-members working fulltime and 10 part-time. The number of places of employment has dropped so dramatically because Cineplex made one job by combining the work of 2 or 3.1ocations. One member, for example, works 8 downtown screens in 3 location's using a bicycle. In combined theatres however we achieved better scales ($13.00 range). Hourly wages overall are $10.00 at the low end and $15.00 at the high side, with the average about $11.50. Second quarter 1993 we have 71 total members, 15 of which are over 65.
Tracking the last 25 years Local 154 has merged with 3 locals yet we have gone from over 100 jobs at over 60 places to about 50 jobs at 30 places.
Our three major employers are Cineplex, GCC, and Landmark. At Cineplex we have a 2-year contract to May 1994 that does allow combinations and sharing booth duties with management. We lost 10 full-time jobs with this contract. Our GCC contracts are not all concurrent but are all "bottom line deals" - meaning we agreed management can cutback to a minimum level like Cineplex. Thus far we remain largely "full service" at GCC. Landmark is now our largest employer. Our projectionist/manager contract first written in 1984 has been successfully renegotiated twice and now runs till August 1995 covering 8 Seven Gables Theatres.
All of our employers contribute to our Health and Welfare Trust Fund and the IATSE National Pension Fund (low of $3.00 per shift and high of $4.25). Only two exceptions - the Pacific Science Center and one Panoram job contribute only to the IA Pension and provide their own H&W coverage.
Outside of ACT III, one United Artists theatre and a few independents we have agreements covering all theatres. Act III bought two Cineplex units in Bellingham in 1992 and with the help of the International we were able to agree on a one year (to August 1993) contract covering just those two units. It provided wages and hours but no fringe benefits. It was a first time agreement with this company but a poor deal.
By virtue of an IA agreement with AVICOM we acquired two very technical jobs at SeaTac Airport. These are very good jobs and to this point they have agreed to contribute to our H&W Fund. We continue to negotiate the IA Pension contributions.
In summary the state of the trade for Local 154 suffers from technology, specifically automation and the poor economy of the exhibition industry. Hopefully the industry is at its nadir and we can improve our wages and stem the loss of jobs. However as our pool of skilled labor diminishes we risk a self-perpetuating cycle of decline as we can't supply the labor for any expansion or new opportunity. Big conventions and extra holiday shows, for example, will be harder and harder to cover. The pool must be enlarged to preserve and extend our jurisdiction or we will decline. In other words the last 25 years saw over half the jobs disappear but it won't take another 25-years to lose what's left if we get much smaller.
Given all the cutbacks of the last two years we are training no new members. The IA did arrange last May for two weeks training for our members, featuring Dolby, Carrier, and Strong. It was well attended and received.
---
LOCAL 175, TACOMA, WASHINTON
Submitted By: Glenn A. Gilbert, Delegate
---
17 Active Members, 3 Retired Members over 65, 9 Retired Members over 75, 29 Members Total.
In 1991 the local entered very difficult negotiations with Cine-Plex Odeon, with the assistance of International Representative Walter Blanchard we accepted a contract for a 1-year term with a slight increase in wages but reduction in hours. The scale ranges from $10.45 for a 6 plex to $8.05 for a twin, hours are limited to 33.5 hours of operation and 3 hours of maintenance at $6.80, film make-up and break-down at 12.00 per print. This has effectively limited employment to one man per unit with 5 units in the jurisdiction. The contract expired in September of 1992; we have not attempted to negotiate a new contract on advice of Representative Blanchard. CinePlex sold its Kelso - Longview units to Act 3, at the present time we have a contract for the Three Rivers unit in Kelso which provides one man with 25 hours per week at $10.90 per hour, this contract expires in September of this year and expect that this employer will not continue with the union. General Cinema has two units in the jurisdiction for which we have recently completed negotiations on a three year contract the scale is now at $11.10 per hour and will increase to $11.60, 38.5 hours are guaranteed, at the present time both units have operators for all hours of operation. Film make-up / breakdown is paid at a flat rate of $20.00 per week and maintenance of 2 hours per week is allowed. American Multi-Cinema has 3 units in the jurisdiction which are under International contract at a scale of $14.50 per hour, with a minimum of 20 hours per week (1 hour per week per screen), this provides an excellent part-time position. Valley Drive-In contract pays $12.00 per hour for a minimum of 30 hours per week and operates about 6 months of the year. Starlite Drive-In has an operator for film make-up / breakdown and limited hours Friday and Saturday Night. All employers except Act 3 and Starlite Drive-In provide paid vacations and participate in the Health and Welfare Trust and Pension plans. Dues $37.00 per quarter, working dues $1.00 per week / $4.00 per month plus 1% gross wages.
---
LOCAL 887, SEATTLE, WASHINTON
Submitted By: Mary L. Gustafson, Business Agent
---
The local's primary project this year was reorganizing our call system to be in compliance with state labor regulations and creating a Board of Examiners. The board regulates and updates the calling system.
Our employment rate was up last year. We were fortunate to benefit from the production of the new "Music Box" production company of the "Phantom of the Opera." The production and run of the show created five consistent months of work for fourteen dresses, nine-day workers plus, beaders and a stitcher.
Our work and contract negotiations with all our standing contracts have been maintained and wages have increased but of course have not kept up with the cost of living. Our jurisdiction remains the same.
A primary issue for wardrobe remains; that the work has not been at a level consistent enough to maintain as independent income level for most members. It remains primarily a job which is good for a second supporting - - income only. Our membership is now at 23; one member is on the road with Phantom, three are local wardrobe heads and two are assistances. Only two of our members are able to live independently and support themselves.
Future goals are to refine our call system, increase our union membership and redevelop our apprentice program.
---
LOCAL 925, BOISE, IDAHO
Submitted By: Mike Boyle, President Local 925
---
SINCE OUR LAST CONVENTION IN 1990, WE'VE HAD A COMPLETE TURNOVER IN OFFICERS FOR THE LOCAL. MARK MONTGOMERY RESIGNED AS PRESIDENT TO BECOME THE NEWS DIRECTOR OF KBCI-TV IN BOISE. MIKE BOYLE WAS ELECTED TO SUCCEED HIM IN MAY OF 1992. DEXTER MC BRIDE WAS ELECTED SECRETARY-TREASURER THAT SAME MONTH, SUCCEEDING CATHERINE BUTLER. WILLIE BERN IS NOW THE SHOP STEWARD FOR KBCI-TV, REPLACING MIKE KECKLER, WHO TOOK A JOB AS ASSIGNMENT EDITOR AT KBCI. DAVE MILLS IS STILL THE SHOP STEWARD AT KTVB-TV.
LOCAL 925 RENEGOTIATED A NEW 3-YEAR CONTRACT WITH NORTHWEST TELEVISION, INC. IN JULY OF 1992. THE NEGOTIATIONS WERE RELATIVELY SMOOTH IN MOST AREAS, BUT WERE SNAGGED FOR A TIME ON THE ISSUE OF HEALTH CARE & COMPANY INSURANCE. THE OLD CONTRACT HAD A SICK LEAVE POLICY WHERE AN EMPLOYEE WOULD RECEIVE 6 DAYS OF SICK LEAVE PER YEAR OF FULL TIME EMPLOYMENT. THE DAYS DID NOT CARRY OVER TO THE NEXT YEAR, BUT IF AN EMPLOYEE DID NOT USE HIS 6 DAYS, THE COMPANY WOULD BUY THEM BACK AT THE END OF THE YEAR. THIS POLICY WORKED EFFECTIVELY FOR NEARLY 13 YEARS. THE COMPANY HOWEVER, DECIDED TO ELIMINATE THIS POLICY COMPANY WIDE AND ADOPT A LESS BENEFICIAL PLAN FOR ITS EMPLOYEES. INSTEAD OF THE 6 DAYS, AN EMPLOYEE WOULD GET 10-DAYS PER YEAR, WITH UNUSED DAYS CARRYIN, OVER TO THE FOLLOWING YEAR. THIS WOULD ELIMINATE THE BUYBACK PLAN. ALSO, THE COMPANY ELIMINATED SHORT TERM DISABLITY (PROTECTION FOR UP TO 90 DAYS OUT OF WORK DUE TO INJURY ILLNESS), AND INSTEAD DEEMED THAT THE CARRY OVER DAYS FROM THE SICK LEAVE WOULD SERVE AS THE SHORT TERM DISABILITY'BANK'. IT'S A PLAN THAT WOULD SOMEWHAT PROTECT A LONG TERI EMPLOYEE, BUT WOULD LEAVE A NEW EMPLOYEE RANGING IN THE WIND. WE HAD COME TO AN AGREEMENT AFTER ABOUT 2 MONTHS OF NEGOTIATING, AND BOTH SIDES FOUND A COMMON GROUND TO AGREE UPON. UNFORTUNATELY, ABOUT 2 WEEKS AFTER SIGNING THE NEW CONTRACT, WE FOUND A CASE TO TRY THE NEW POLICY. WE DISCOVERED THAT THE COMPANY INTERPRETED THE LANGUAGE IN THE CONTRACT MUCH DIFFERENTLY THAN THE LOCAL DID. TO THIS DAY, WE ARE STILL TRYING TO HAMMER OUT A COMMON AGREEMENT ON THE SICK LEAVE POLICY. THE CONTRACT IS DUE TO EXPIRE IN JULY 1995, AND THERE IS NO DOUBT THAT THIS ISSUE WILL BE THE NUMBER ONE TOPIC FOR DISCUSSION.
MEMBERSHIP CONTINUES TO FLUCTUATE. WE GO THROUGH PERIODS OF STRONG MEMBERSHIP, BUT AS THE TURNOVER IN OUR MARKET GOES, SO DOES OUR MEMBERSHIP. RIGHT NOW, WEIRE MAKING A STRONG PUSH TO RECRUIT NEW MEMBERS IN THE LOCAL. WE HAVE A NUMBER OF NEW EMPLOYEES IN THE UNITS AT KBCI & KTVB, AND THE PROSPECTS OF NEW MEMBERS IS LOOKING GOOD. KEEPING CURRENT MEMBERS UP TO DATE ON THEIR DUES IS A CHORE TO SAY THE LEAST. MOST OF THE MEMBERSHIP IS EXCELLENT AT PAYING, BUT THERE ARE A FEW BLACK SHEEP THAT THE SECRETARY AND MYSELF HAVE TO KEEP ON TOP OF ON A REGULAR BASIS.
LOCAL 925 DID RECEIVE A PROCLAMATION FROM IDAHO GOVERNOR CECIL ANDRUS IN JUNE OF THIS YEAR, HONORING THE IATSE ON ITS' 100th ANNIVERSARY. ALL OF US IN LOCAL 925 WISHES THE IATSE ALL THE SUCCESS IT DESERVES FOR THE NEXT 100 YEARS, AND BEYOND. THOSE OF US, WHO WORK IN A RIGHT TO WORK STATE SUCH AS IDAHO, REALIZE THE CHALLENGES WE FACE ON A DAILY BASIS IN THE WORKPLACE. WE WILL CONTINUE TO FIGHT FOR WHAT IS RIGHTFULLY OURS; A DECEN'. WAGE, GOOD WORKING CONDITIONS, AND DIGNITY AS A WORKING PROFESSIONAL IN THE BROADCAST MEDIUM.
---
Home Page | Menu | District One History | General News
Education | Links | E-Mail John
---

Visitors Since February 12, 1999
---
A Legends Production